The start of the adventure
It's the end of our 4th year of studies at INSA Lyon with my friend and future partner Morgan, and I've just returned home from a year of studying in Canada, where the first drafts of the project were thought of. It's currently the end of May and I have about 1 month until my internship at Cartier starts in Paris, so 1 month to work on the Classic Racing School project, under the blue sky of home, in the French Alps.
At this stage, the project was advancing slowly: I had no cars, no track, no clients or investors, just a simple website with a great photo to tell people about the Classic Racing School concept ( a Brabham at Goodwood, in case you're wondering!), and a general idea of what I wanted the concept to be, as well as a business plan, as good as you can expect a young 21 year old with no business experience to do!
Reading the first versions of the business plan again makes me chuckle..You would've laughed too if you could see them!

As months went by, I'd spend my time going through the internet looking for everything related to Formula Fords and historic F1. Why? To find the prettiest single seaters of the time and their manufacturers, and study the feasibility of buying a fleet of period cars or recreating them for use at the racing school. After having gained an extensive knowledge of 60's single seaters (time well spent!) I one day stumble upon a manufacturer I didn't previously know: The Crosslé Car Company, thanks to a photo with a beautiful single seater: The 1969 Crossé 16F. I soon learn that it won the European Formula Ford championship. Not a bad starting point! And what do you know, Crosslé has a working website and phone number! Things were starting to shape up, quickly distracting us from our final year internship!

After some email exchanges from which I find out that the Crosslé factory is still up and running, with Paul McMorran at the helm, having recently purchased the manufacturer in 2012.

".. we're looking for a Crosslé 16F ."
At this stage, I decided I needed to show them I was serious. How could I, a student with no financial backing, convince them to produce 7 brand new single seaters in a year? An interesting problem.
"Hi, a friend and I are looking to take part in the historic Formula Ford championship next season, and we're looking for a Crosslé 16F. Yes, as soon as possible..Oh really? One in Silverstone and another in Belfast near your factory? I'm buying a ticket as we speak."
This period was right during the 2016 European football cup. Luckily for us, a plane was sent specifically to fly Irish supports to Lyon the evening before, giving us the opportunity to get on a direct flight to Belfast! Even the police at border control weren't really aware of this flight, giving us a random control that resulted in just 4 of us boarding the plane!
Arriving in Belfast, we were confronted by our hotel choice: we took the cheapest room in the whole city, by sleeping both of us in the same small 120 bed. When picking us up from the airport, Paul McMorran, Crosslé CEO already seemed to be surprised to be picking up two people our age, let alone when we announced to him where we were staying overnight.."Are you sure you want to spend the night here..?"
A few moments later we'd understand why he reacted that way. But it didn't matter, we were there to do business: To buy our 1969 racer, and most importantly, convince the Crosslé factory to produce the 7 cars we needed.
The factory tour could just by itself fill the pages of a whole article. It was the stuff of dreams: the 60's at their best, in the middle of the Irish countryside, a factory stopped in time, a barn made of bricks with a period house right next to it, with old machines, old race cars as far as the eye could see, carburetor engines, naked chassis and nothing to indicate this was the year 2015, and cats everywhere. After a short discussion about our project, where we asked the possibility to build a new model later to be called the 90F and based on the 16F model we were about to purchase, we start speaking about purchasing the 16F we came to see. Kept in Tommy Reid's hangar 20 minutes away from the factory, we were about to take our first step in creating Classic Racing School.
Meeting Tommy
Three hangars in the middle of nowhere, with small signs of life. We walk inside one of them, to be greeted by dust, visible in the air thanks to the small rays of light penetrating the building through the openings in the ceiling. With the sound of old machines turning, strings everywhere and we soon connect the dots: We're standing foot in a rope factory! We walk inside a small office, with small RC helicopters everywhere to be greeted by the man himself, former Crosslé factory driver Tommy Reid. "I fly!" he greets me, with a broad smile. He is what we loved about the race drivers of the 70's, characters larger than life, addicted to speed and risks, with a hands on approach to things. Tommy owned a rope producing business that allowed him to finance his races back in the day, all while driving for Crosslé.
As we walk across the hangar, surrounded by countless covered cars and factory machines buzzing away in the background, we see a Ford Sierra RS Cosworth, a March Formula 2, a Lotus Seven, a Lotus Europa..Tommy had kept all these cars from his racing days. A hidden treasure.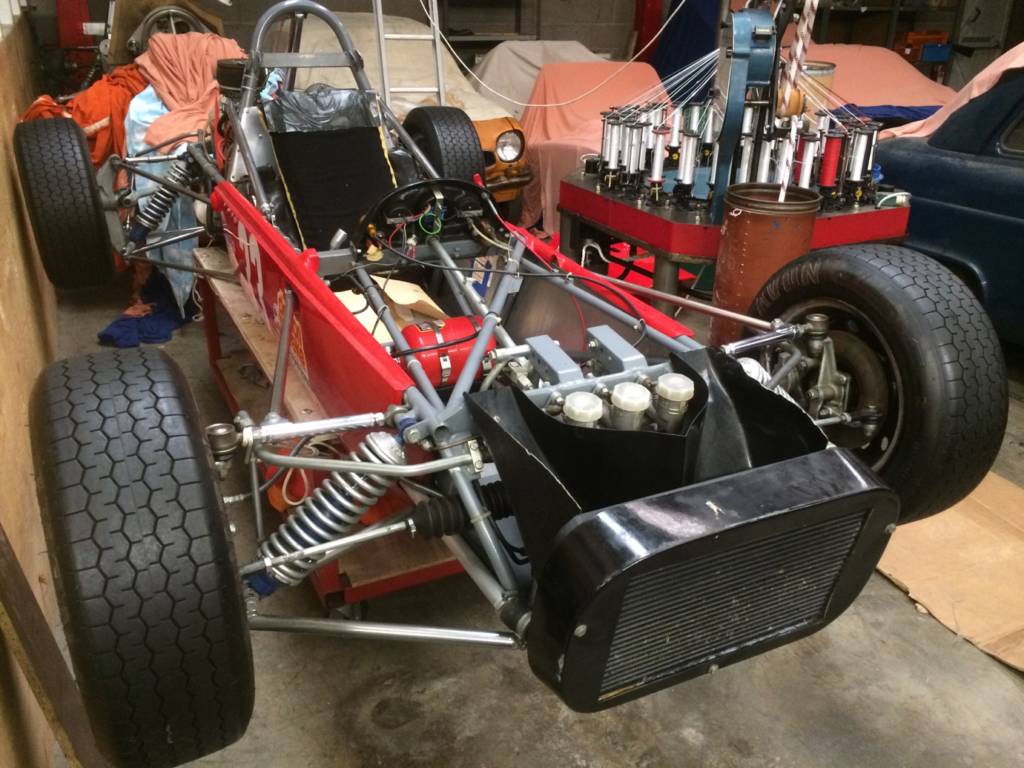 Just some meters away, a distintive silhouette: a red 1969 Crosslé 16F, suspended in the air (so the tires wouldn't deform after months of not moving..) Full of dust, the car is complete and with "TD REID BRAIDS" marked all over it, as well as some documentation (the actual term wouldn't be appropriate for these pages..)
We go over the documentation, walk around the car to look like we're still studying the decision but deep down, we knew we were going to buy it. " We'll take it" I said, without even knowing how much this exact car was. All I knew was that Formula Ford cars were usually sold between 20 000€ and 40 000€ – It could easily be affordable just as well as the double – all depending on their vintage, condition and pedigree.
After a shake of hands, we closed the deal. At this stage, we could have thought that what we were doing was crazy, irresponsible even, without even knowing what the next steps were. And even worse, our bank accounts were looking decidedly empty, so we didn't even know how we would purchase this Formula Ford we had just bought. But no – we made it this far, we had to keep on believing and not turn back now.
We bid goodbye to Tommy, who invites us to see his other hangars that kept his airplanes but our schedule was tight. Once on our way back with Paul in the car, and very proud of our most recent acquisition, that gave us the legitimacy to state our conditions to produce these 7 new cars.
Once back in France, we both jump on our phones. "Good morning, I'm calling for a student loan of 40 000€, for a project i'm doing for my specialized Master course." I'll spare you the details, but the essential is that, 10 days later, we had the money wired to Ireland. And the first step in our adventure to create the world's first historic racing school.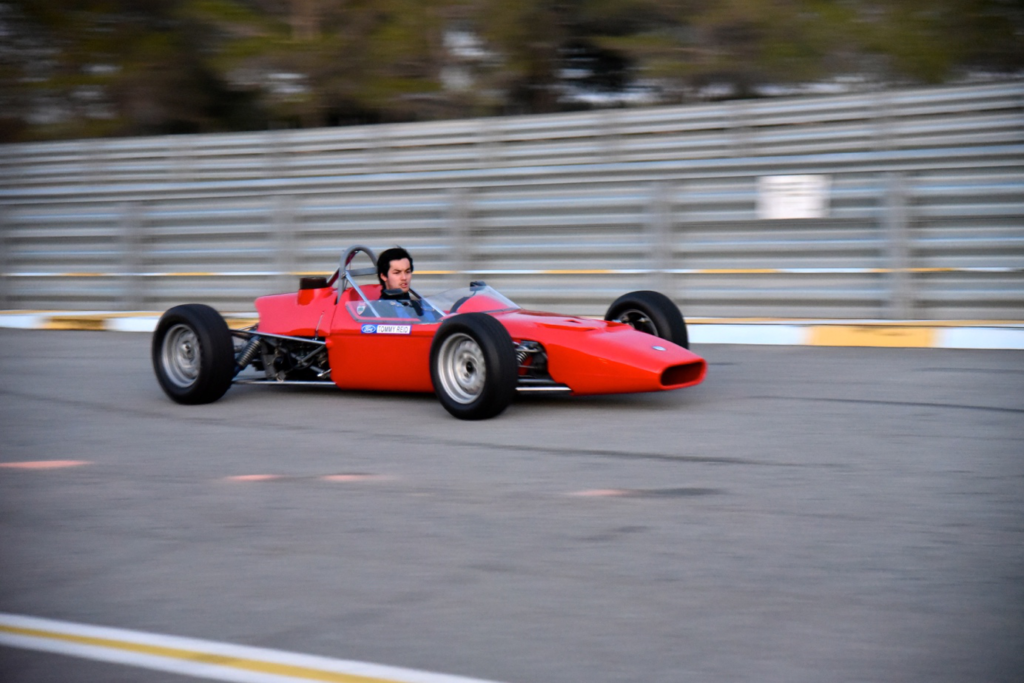 The Crosslé 16F at Charade